About Us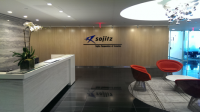 Sojitz Corporation of America (SCA) is the U.S. subsidiary of Sojitz Corporation, an integrated global trading company with $35 billion in annual trade transactions. Headquartered in Tokyo, Sojitz has 88 offices, 396 subsidiaries, and 14, 330 employees around the world.
SCA was founded on April 1, 2004 through the merger of Nissho Iwai American Corporation and Nichimen America, Inc., two of the most experienced international trading companies in the United States.  For over 100 years (see full history), SCA has done business with trust, reliability, and results, characteristics that are synonymous with the Sojitz name.
Through 9 business divisions SCA has the ability to operate across an enormous scope of industries and sectors and to work with thousands of companies in the Americas and around the world. Among them are giants like Boeing and Nike as well as many smaller, less well-known firms.
Our main business activities include:
International trade (export, import, offshore, domestic and counter-trade)
Marketing and distribution
International project management
Trade financing and project financing
Transportation, insurance, and customs services
Natural resource development
Direct investment, debt financing, leasing, and asset-based financing
Sojitz Corporation of America manages operations in the U.S., Canada, Mexico, and Central and South America through our hemisphere-wide network of offices and our diverse array of group companies.
Outside of the Americas, Sojitz has a worldwide network of operating bases ready to do business.